At the age of 56 years, I now look back at my life and see how a good portion of it has passed. The other day, I looked through hundreds of old film pics from way back. I have thousands of slides and negatives sitting in boxes and drawers. Innumerable prints live in larger boxes.
Which images mean the most to me? The landscapes? No, they are mere landscapes and not even of the extreme quality I can obtain with today's digital cameras. However, I have thousands of images of old friends, family, and neighbors. Is the quality up to today's standards? By no means! However, these images are the precious ones, the ones to hang onto for the rest of my life.
Take these two pictures, for instance. The first one is of my wife and daughter in 1996. I made it with an old Nikon FE on Kodak Gold film. It is not up to the quality of the new digital picture of the same little girl, now at 23, married, and pregnant with my grandson. However, it is irreplaceably valuable to my wife and me.
The most important pictures, and the ones you will treasure above all others later in life are the people pictures. In your quest for the perfect landscape, sports shot, or wildlife shot, please do not overlook what will later be much more important to you. A landscape will, pretty much, always be there, but people are temporary.
Take pictures of your friends, family, neighbors, and pets. You are the historian for your family. The people pictures are the important ones. I say this from my own life experience. Surely yours won't be all that different from mine.
Oh, and be sure that someone takes pictures of you from time to time!
Keep on capturing time…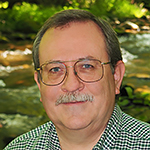 Darrell Young is an active member of the Nikonians User Community, Nikon Professional Services (NPS), Professional Photographers of America (PPA), North American Nature Photography Association (NANPA), and the author of 15 photography books from NikoniansPress through Rocky Nook, including Beyond Point-and-Shoot, Mastering the Nikon D610, Mastering the Nikon D800,Mastering the Nikon D7100, and the upcoming Mastering the Nikon D810, to name a few. He's been an avid photographer since 1968 when his mother gave him a Brownie Hawkeye camera.
His website, www.PictureAndPen.com, was created to support the readers of his educational books, photography students, and clients. Visitors to his website will find articles and reviews designed to inform, teach, and help you enjoy your photographic journey.