Do you find yourself shooting mostly horizontal images? Most do! However, there is a strong need for excellent vertical images in the publishing world. What shape are books and magazines (and tablets and smartphones)? Normally, they are held vertically. Guess who sells their vertical fine art? Those who create it!
As an example, here is one of my images from the Great Smoky Mountains that made the cover of a magazine. I shot both vertical and horizontal that day, and the vertical sold, making me a pretty penny. On the left is the original, and on the right the cropped version that made the cover.
However, please work on the composition and don't just shoot a cool horizontal and then say, "Hmmm, I need to get a vertical too!" Often those are not well composed because they are an afterthought from a horizontal composition.
Instead, go out and compose for vertical pictures for one full day of shooting. See what you can come up with!
Keep on capturing time…
Darrell Young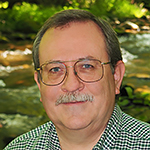 Darrell Young is an active member of the Nikonians User Community, Nikon Professional Services (NPS), Professional Photographers of America (PPA), North American Nature Photography Association (NANPA), and the author of 18 photography books from NikoniansPress and Picture and Pen Press, through Rocky Nook. You may review a few of Darrell's books here. He has been an avid photographer since 1968 when his mother gave him a Brownie Hawkeye camera. Here is one of Darrell's nature image portfolios.
His website, www.PictureAndPen.com, was created to support the readers of his educational books, photography students, and clients. Visitors to his website will find articles and reviews designed to inform, teach, and help you enjoy your photographic journey.